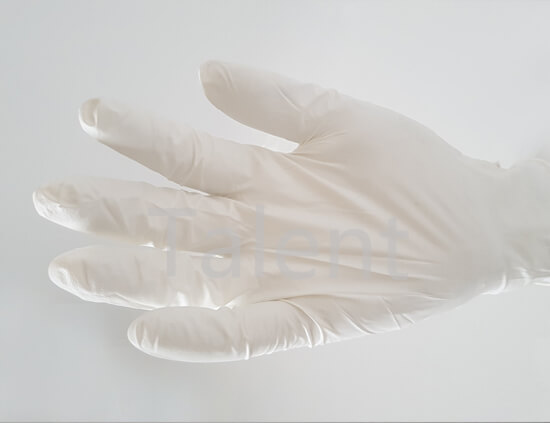 Cleanroom Gloves
Cleanroom Gloves Features: 
Polymer Coated Process.
Strong & Durable.
Stretch & Sensitive.
Micro Texture Surface (Easier Grip) .
No Skin irritation or allergic reaction.
No infection or contamination caused by glove powder.
No harsh or hazardous chemicals.
An excellent barrier to infectious and viral agents.
Cleanroom Gloves Application:
For medical and health checking.
Precision optics.
Electronics.
LCD / DVD LCD manufacturing.
Biomedical.
Precision instruments.
PCB printing and so on.
Cleanroom Gloves Specification:
| Item | Cleanroom Gloves |
| --- | --- |
| Material  | 100%Nitrile  |
| Powder  | Powder Free |
| Color  | White/Blue  |
| Surface  | Finger Textured  |
| Size  |  XS,S,M,L  |
| Measurement  | 9″  |
| Gram weight  | 3.2/4.0/4.7  |
| Length(mm)  | ≥230  |
| Thickness(mm)  | The centre of the palm 0.07±0.02/ The finger (from finger tip 13mm±3mm) 0.09±0.02  |
| Feature  | Environmental, good elastic, solid and durable  |
| Package  | 50pairs/bag,20box/ctn  |
Cleanroom Gloves Physical Character
| Item | Before Aging | After Aging |
| --- | --- | --- |
|  Tensile strength (1MPa)  | ≥18  | ≥16  |
|  Elongation at failure(%)  |  ≥500  | ≥400  |
Cleanroom Gloves Quality Examination And AQL Test
| Item | Quality examination | CAQL Test |
| --- | --- | --- |
| Imperviousness |  G1 | 1.50 |
| Physical Dimensions |  S2 |  4.00 |
| Tensile strength |  S2 | 4.00 |
| Appearance inspection(main) | S4 |  2.50 |
| Appearance inspection(minor) | S4 |  4.00 |
|  Powder residual amount | N=5 | ≤2mg/pcs |